Orthodontics for Children
While there is no exact age for children to begin orthodontic treatment, the American Association of Orthodontists recommends visiting Dr. Halcomb around age seven.
By this age, most children have a mix of baby teeth and adult teeth, making it easier for Dr. Halcomb to diagnose and correct tooth and jaw problems sooner and without surgery.
Here are a few things to look for that may mean your child needs to see Dr. Halcomb:
Early or late loss of baby teeth

A hard time chewing or biting food

Mouth breathing

Finger or thumb sucking

Crowded, misplaced, or blocked teeth

Jaws that pop or make sounds when opening and closing

Teeth that come together abnormally, or do not come together at all

Jaws and teeth that are not proportionate to the rest of the face

Crowded front teeth around age seven or eight

What is the advantage of two-phase orthodontic treatment?
Two-phase orthodontic treatment is a specialized process that combines tooth straightening plus physical and facial changes that will remain throughout your child's life. Early treatment allows Dr. Halcomb to:
Correct and guide the growth of your child's jaw to help the permanent teeth come in straight

Regulate the width of the upper and lower arches

Create more space for crowded teeth

Avoid the need for permanent tooth extractions later in life

Correct thumb sucking and help improve minor speech problems
Phase One
The goal of Phase One treatment is to help the jaw develop in a way that will accommodate all of the permanent teeth and improve the way the upper and lower jaws fit together. If children around the age of eight have crowded front teeth, early treatment can prevent the need to extract permanent teeth later.​
Phase Two
The goal of Phase Two is to make sure each tooth has an exact location in the mouth where it is in harmony with the lips, cheeks, tongue, and other teeth. When this equilibrium is established, the teeth will function together properly.

What if treatment is put off?
In most cases, putting off treatment until all the permanent teeth are in the mouth is the right path and will not cause life-long issues. However, there are certain situations where putting off treatment may result in a need for more invasive treatment later in life. Early treatment is most effective for achieving lasting results.

Impacted Teeth
An impacted tooth is a tooth that is blocked or "stuck" underneath the gum line, and does not erupt into its correct position on its own. Most often, an impacted tooth will be a third molar, or wisdom tooth, though it is a common occurrence in canine teeth as well. Because of the canine's long root, they are very strong, stable teeth. Canines are usually the last teeth to erupt, and usually do so when your child is around the age of 12 or 13.
If your child does develop an impacted canine, a simple surgical procedure is recommended to assist the eruption of the tooth. We will surgically expose the tooth by cutting a small flap in the surrounding gum. After the tooth is exposed, we will either leave the tooth to erupt on its own, or attach an orthodontic bracket to the tooth to help guide its descent.
With early detection and combined surgical and orthodontic treatment, impacted canines can be allowed to erupt and/or be guided to the most ideal position in your child's mouth.
Palatal Expander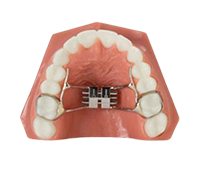 The palatal expander "expands" (or widens) your upper jaw by putting gentle pressure on your upper molars each time an adjustment is made. The animation below will instruct you about when and how to adjust your expander. When you achieve the desired expansion, you will wear the appliance for several months to solidify the expansion and to prevent regression.
Adjusting the palatal expander
You can also download these instructions in a printable PDF document.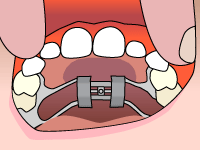 Step 1
In a well-lit area, tip the patient's head back.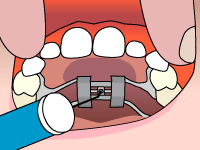 Step 2
Place the key in the hole until it is firmly in place.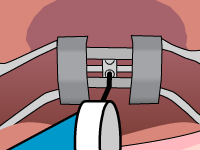 Step 3
Push the key toward the back of the mouth. You will notice the fender will rotate and the new hole will appear. The rotation stops when the key meets the back of the expander.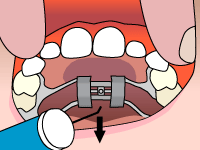 Step 4
Press back and down toward the tongue to remove the key. The next hole for insertion of the key should now be visible.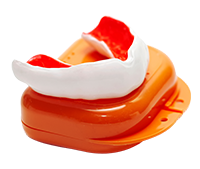 Mouthguards
Protecting your smile while playing sports is essential when you have braces. Mouthguards help protect your teeth and gums from injury. Choosing the right mouthguard is essential. There are three basic types of mouthguards: the pre-made mouthguard, the "boil-and-bite" fitted mouthguard, and a custom-made mouthguard from Dr. Halcomb. When you choose a mouthguard, be sure to pick one that is tear-resistant, comfortable and well fitted for your mouth, easy to keep clean, and does not prevent you from breathing properly. Sports-related injuries to the mouth and jaw are some of the most common injuries incurred by athletes. Our goal is to help minimize your chances of a sports-related injury to your smile. Be sure to ask Dr. Halcomb about mouthguards at your next appointment — GO TEAM!